Concrete Driveway Calgary
---
In Calgary, Concrete Driveways are often taken for granted. We park our cars over them, and we expect them to remain in the same condition indefinitely. Then we forget about them.
The truth is, concrete driveways in Calgary and Alberta, sometimes need to be redone. It doesn't have to cost a great deal to do this. But there are other things to consider, like who you intend to hire or whether you will use asphalt or concrete. If you decide on concrete, you then get to choose between polished concrete, stamped concrete, or keep it simple with a no-frills cement pour.
As an established Driveway Contractor near me understands these concerns. We ensure you get great wokenmanship on your project and qaulity work within your budget. In this article, we will address them to keep you informed to make a wise decision.
Patriarch Construction – The #1 Concrete Driveway Contractor in Calgary
In short, we at Patriarch Construction have poured more than our share of driveways. The experience and expertise,workmanship we have gained have been passed on through four generations of cement experts. In fact, while we share a mutual respect for our competition, they know that keeping up with us is a full-time job itself. We pride ourselves in setting the bar high for a concrete driveway contractor.
Calgary's Driveway Near Me – Patriarch Construction
Concrete driveway design project are limited by only one thing – your imagination. You can choose from a variety of finishing options. Here we will highlight two:
– New Polished Concrete Driveway – Stamped Concrete Driveway
-concrete driveway repair calgary
concrete driveway calgary
New Polished Concrete Driveway
This is an expensive concrete driveway option, and your final cost depends much on the method used for polishing the concrete. The most basic method ranges from $10 to $12 per square foot. The more refined methods go up in price from there. The nice part about polished concrete is that you never have to seal it. The polishing eliminates the need for that. At any rate, you can rest easy knowing that the job will be done to your satisfaction – even beyond.
Stamped Concrete Driveway
Stamped concrete is close to a normal driveway pour, with one difference. Once the concrete is poured you have to carefully pick the moment to embed the stamped patterns into the cement before it completely cures.
Naturally, you would expect driveway concrete contractors to know when that moment is, and we do.
Patriarch Construction Calgary – Concrete Driveways Poured Right
Even though we specialize in concrete driveways, we understand the consumer's need to compare value. So let's look at a comparison of concrete versus asphalt.
Cost
Asphalt is usually half the cost per square foot than cement to install initially. However, since asphalt needs resealing every 2 years or so, this adds to the overall cost. When done right, you pay for concrete once.
Maintenance & Longevity
Asphalt needs regular maintenance and resealing at regular intervals. On the plus side, if you don't mind that, your asphalt driveway can last up to 30 years. With concrete, once it's poured, cured and sealed, you may never have to do a thing with it. They can last twice as long as asphalt.
Calgary's extreme winter conditions wear more on asphalt than concrete, which can last twice as long as asphalt. Concrete also tends to be more attractive to buyers. The last thing they want to do when buying a house is redoing their driveway.
Patriarch Construction Calgary – Driveways After Photos
---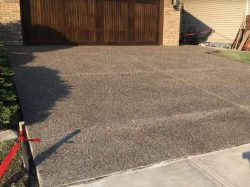 Patriarch Construction Calgary – Driveways Before Photos
---